Cats love nothing more than to bound around and play with toys. It is the ideal way for them to let off some steam and release all that pent up energy inside. As an owner, buying new cat toys for your kitty can be lots of fun. There are many cool and quirky cat toys out there on the market that the felines in your life will undoubtedly love.
Have you ever thought about the types of cat toys you buy for your kitty? Are they safe? I mean they must be, right? Otherwise, manufacturers wouldn't market these toys for felines? Not true!
So are stuffed cat toys safe? There are many toys for sale that are marketed for feline use which aren't safe for cats at all. One of the most dangerous parts of cat toys is the type of stuffing used. Cats tend to get their claws into just about everything which makes the types of stuffing used in these toys an important part of deciding which to buy.
Cats love to rip open plush soft toys meaning the stuffing becomes exposed and could be liable to cause your cat harm. It is therefore vital you are aware of how these toys are made and what materials are used.
What You Need To Know About Cat Toys
Regular stuffing is usually very safe for cats and is by far the safest type to purchase for your kitty. The stuffing is bound together reasonably well and often stays in one piece even with the most boisterous of felines. It is, however, always best to check your cat's toys regularly for wear and tear just to ensure everything is in order.
Cat toys with the following types of stuffing should be avoided at all costs since they are a choking risk for your kitty:
Feathers – can be a choking hazard and cause lacerations in the mouth
Polystyrene beads – choking hazard
Beans – choking hazard
Nutshells – choking hazard
String – can cause choking and strangulation
Elastic – can cause blockages in the intestines
Yarn – can cause choking and strangulation
Plastic bags – can cause suffocation
Rubber Bands – can cause intestinal blockages
Paper clips (or similar) – can cause intestinal blockages, chocking and damage to the mouth
Catnip-filled toys are without a doubt the best options for soft cat toys, however, if this isn't possible then it is always best to stick to regular stuffing that you should check regularly as opposed to any of the above materials listed.
Another great alternative is toys that have been stuffed with soft materials such as old socks. This is often a great solution if you choose to make your kitty cat toys at home.
With that being said, let's take a look at 3 of the safest cat toys on the market. We can't help but think your kitty will want to play all day with these. And the best part of all? You won't have to worry about their safety.
The Safest Stuffed Cat Toys
1. Petstages Catnip and Dental Health Cat Toys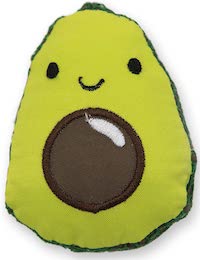 The Petstages Catnip and Dental Health Cat Toy is one of the very best on the market right now. This highly durable plush toy has been designed with cat attacks in mind.
Although lightweight, this toy has been made with strong material that does not break easily and can withstand even the most boisterous of kitty!
The stuffing in this toy is pretty safe for cats since the majority of the filling is catnip which is perfectly safe for kitty to consume if they desire.
Cats seem to adore catnip which is why it features in so many cat toys on the market today. The Petstages Catnip and Dental Health Cat Toy also has the benefit of assisting your kitty with dental care thanks to its heavy-duty exterior which can be great for chewing.
Pros
Safe for cats since most of the stuffing consists of catnip
Highly durable and will not break easily
Assists with dental care
2. Yeowww! Catnip Toy, Yellow Banana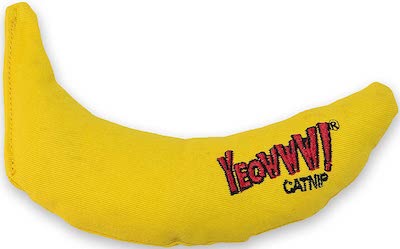 The Yeowww! Catnip Toy, Yellow Banana is definitely a firm favorite amongst our feline friends and the amazing reviews and customer following can certainly attest to this!
This cat toy has been made with only the best high-quality materials such as 100% natural cotton twill and has a strong exterior that can withstand even the most highly strung kitty clawing.
This product has been stuffed with 100% organic catnip meaning it is completely safe for your kitty even if they do manage to tear open the exterior and have been handmade in the USA for all-round quality.
Pros
Stuffed with 100% organic catnip
Tough exterior to withstand clawing and biting
Made with soy and vegetable dyes – non-toxic
3. SmartyKat Fish Flops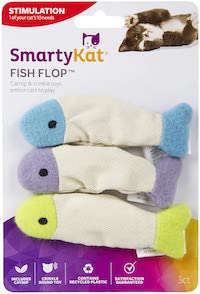 If you are looking for a completely stuffing free option then the SmartyKat Flops are without the best option!
These soft fishes are an ideal size for cats and include no nasty fillers that can become a hazard to your feline friend. Your kitty is free to rip them apart if they choose to do so without risk.
All this toy contains is catnip inside which is completely safe and you can be sure your cat will love.
These are the perfect size for your cat to bat and carry around and come in a handy pack of three. The only decision your kitty will need to make is which color they will be choosing to play with!
Pros
No nasty fillers, just catnip infused
A convenient size for your cat to play with
A handy pack of 3 for ultimate choice and value
Up Next: Why Do Cats Knead And Bite Blankets?