Any cat lover will know how much cats love to scratch and climb. And, while you may genuinely adore your pet to bits, it is still difficult to watch them scratch your couch to shreds. A cat tree is a perfect solution that some ingenious person thought up for distracting their cats.
Cat trees can be simple or elaborate structures with platforms and scratching posts aligned at differing heights. And, many pet guardians even prefer DIY cat trees so that everything that goes into it is exactly according to their kitty's preferences.
However, not all pet parents are carpentry wizards. So, you might have to look for ready made options available at Amazon instead. The most basic elements of any cat tree are the broad base and sturdy extended arms, encouraging your cat to scratch and climb to their heart's content. The very design of a cat tree facilitates exploration.
But sometimes the look of a pre-made cat tree, with all that carpet, wood, or twine, just doesn't match your personal tastes. Maybe you like a more natural look, or a fun and whimsical centerpiece. Do you have to sacrifice your aesthetics for your cat's enjoyment? Not at all!
So, what are the best cat trees that look like trees? The best cat trees that look like trees are sturdy and made of high-quality and pet-safe materials. They should fit into your space and be easy to assemble, easy to clean, and long-lasting. You'll also want to consider how it will look in your home.
It is common knowledge that cats are very curious by nature. The elevated form of a cat tree presents a bird's eye view of the entire room, allowing your cat to survey the world from a safe distance. Cat trees are also available in many different sizes, shapes, heights, and designs.
So, without further ado, let's talk about how to choose the best cat tree for you and show you some of our favorites available to buy online!
What Is A Cat Tree?
A cat tree, also referred to as a cat stand, cat tree house, cat condo, or kitty condo, is an artificial structure specifically designed to encourage your cat to play, scratch, exercise, relax, and snooze in a spot other than your couch. They also provide your cat with their own space where they can rule without compromise and feel safe and secure up high.
Cat trees vary in height and complexity. But, the most favored feature of cat trees for many kitties seems to be the height of the kitty condo, especially if the structure is tall enough to allow a clear view of their territory, and even out the window (or cat TV, as Jackson Galaxy puts it).
Most cat condos are constructed of wood to make them long-lasting and sturdy. Then the entire frame of the cat tree is covered with carpet or a similar soft material that provides a place for your cat to grip onto and encourages them to scratch.
There are often other aspects to a cat tree house, such as cat toys or sisal ropes that can prompt your kitty to scrape and claw-like there's no tomorrow … far away from your more expensive furniture. They may also have hanging toys to entertain your cat while you're gone.
A cat tree has platforms at different angles to help your cat exert some of their pent-up energy getting to the top of the cat tree. The phrase 'cat condo' is often applied to cat tree houses where there are exclusive enclosed areas for your cat to hide in or take a nap.
What Are The Advantages Of A Cat Tree?
The most obvious advantage of introducing cat tree houses in the household is getting your cat to stop scratching your furniture. The need to claw things is not a way for kitties to take revenge upon you or make your life difficult. Scratching is an important instinct in cats, and it is a way to express emotions such as excitement or stress.
Another reason for feline scratching is the need to mark objects with their scent. Cats have scent glands in their paws. They also claw furniture to remove dead parts of their nails. And, sometimes clawing is just a great way to get a good stretch.
But, cat trees don't function only as a means to get your kitty to scratch more. If you put a kitty condo in a room, your naturally curious cat will not waste a second exploring it. They will spend hours going all over the cat condo, exploring and playing. It's a great way to give your cat some entertainment and exercise.
Moreover, the cat toys and sisal ropes that hang from the cat trees enhance mental stimulation, leaving your pet with little energy to get into mischief. Cat trees give your feline their own space to climb up and take a good look around, as well as take a nap in a safe and undisturbed place.
The most basic function that a cat condo serves is to redirect their energy onto something specially designed to keep them happy.
How To Choose The Right Cat Tree
Well, there's really no such thing as a wrong cat tree. But, it does help if you consider certain aspects when looking for a cat tree house that would be ideal for your particular pet.
1. Your Cat's Age And Ability
If you have a senior cat, you may not need a cat condo with many cat toys or many tiers. Most adult cats are more restful and like to lounge and laze about more. On the flip side, if you have a young kitty, then you might want to go with a more elaborate structure that will keep your cat's focus centered away from your furniture.
2. Evaluate The Space You Have
Many pet parents believe that young kittens do not need fancy, complex cat condos, but that is hardly true. The earlier your feline gets accustomed to scratching and clawing at their treehouse, the better it will be for you. The more detailed the structure, the more your pet will spend time discovering the various features of the kitty condo and getting used to it,
If you don't have too much space to house a huge cat tree house, you can place multiple smaller cat trees in different rooms.
3. Consider Your Kitty's Preferences
So, yes, in general, cats like to claw and climb. But, each kitty seems to be drawn to different things. Some cats prefer clawing into thicker and deeper materials and love the feel of the carpet.
Other felines like to hang onto sisal ropes while they scrape. And still other kitties prefer climbing to clawing anyway. So, before you go and buy a cat condo, it's best to look at what your cat actually enjoys doing.
4. Safety First
Unfortunately, the market is full of sub-standard cat trees that aren't sturdy enough to take the constant jumping, climbing, or scratching of your pet and cave in. Other cat trees don't have solid bases and wobble or topple over when your pet gets in their energetic mood and plays rough.
11 Best Cat Trees That Look Like Trees
Having a cat tree that looks like a tree serves the dual function of giving your pet a great hiding spot and making your home look pretty at the same time. So, here's a list of the 11 best cat tree houses that look like trees available online.
| Rank | Product | Key Features |
| --- | --- | --- |
| 1. | On2 Pets Cat Tree With Leaves | 60", 3 tiers, foliage, 4 colors, U.S. made |
| 2. | On2 Pets CatHaven Cat Condo Set | 2 wall mounts, foliage, made in the U.S. |
| 3. | On2 Pets Cat Tree With Leaves, Small | 38", smaller option, foliage |
| 4. | PGFun Palm Tree Cat Scratching Post | Removable toys, natural sisal rope, 3-tier option |
| 5. | BOLUO Christmas Cat Tree | Christmas themed, hanging toys, sisal rope |
| 6. | Bosozuku Cactus Cat Tree | Pet-safe material, hammock, hanging toy |
| 7. | New Cat Condos Premier Play Tree | Neutral colors, carpet-covered, tall perch |
| 8. | Downtown Pet Supply Deluxe Cat Tree | 8ft, sisal rope, leaves, 3 tiers with soft turf |
| 9. | CozyCat Furniture Large Cat Towers | 46" x 25" x 78", sisal posts, hammocks |
| 10. | Go Pet Club Cat Tree - Brown | 7 tiers, cat condo on base, sisal scratchers |
| 11. | Go Pet Club Cat Tree - Tan | Tunnel bed, 5 tiers, sisal scratchers |
| Bonus! | Vetreska Cherry Blossom Cat Scratcher | Cute design, sisal scratching rope |
1. On2 Pets Cat Tree With Leaves, Green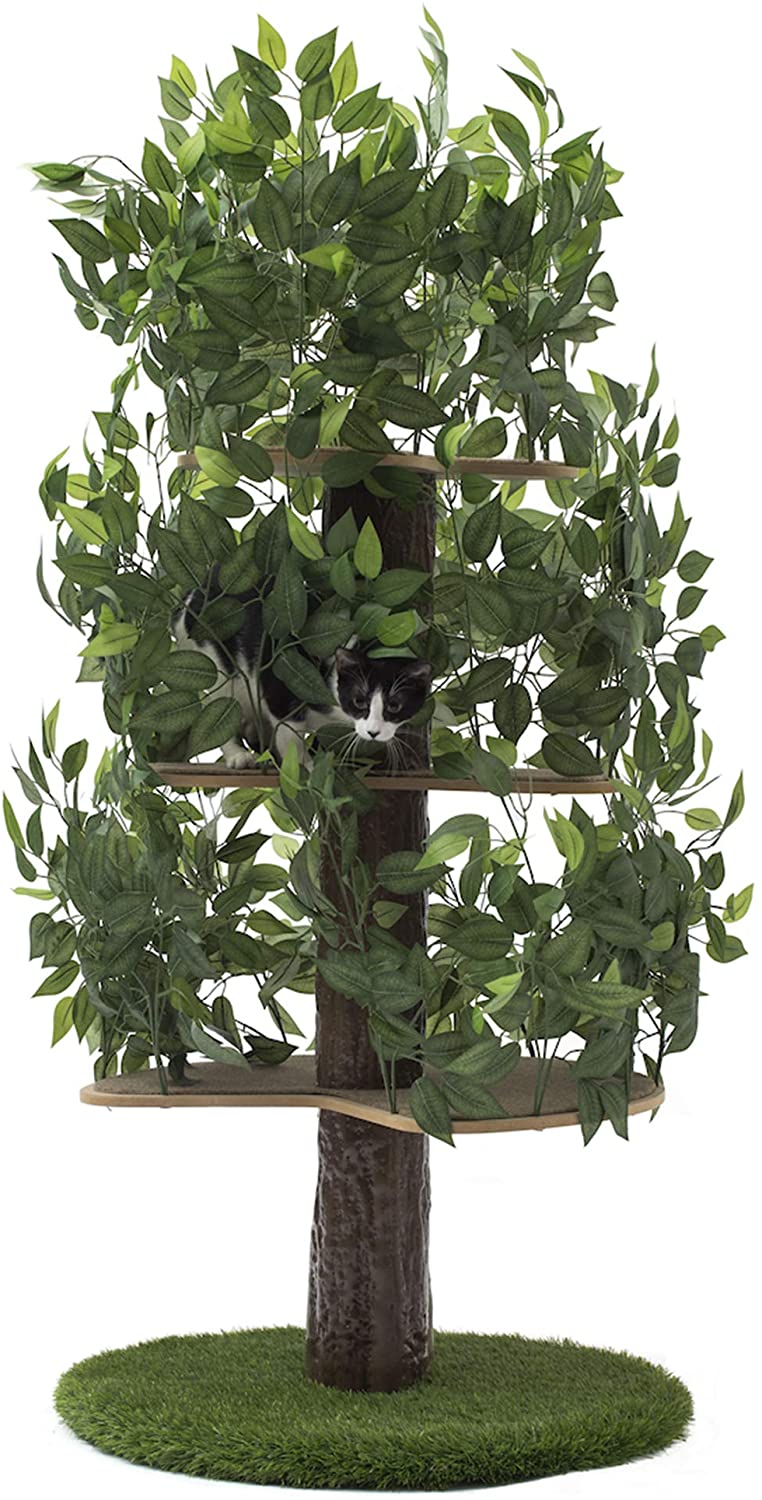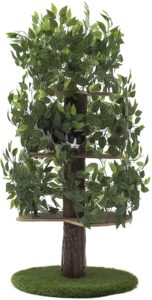 If you want to provide some outdoor fun for your cat indoors while making sure they get plenty of leafy privacy, you should opt for this tree. At the height of 60 inches, it will give your feline a panoramic view of their surroundings.
This tree is even available in four different colors: green, red-brown, fall orange, and green-yellow. Covered in non-toxic leaves and turf, it will provide hours of entertainment and exercise for kitties of all ages. It has three carpeted perches, made with pressed wood and carpet.
Also, the natural-looking foliage will give your feline a perfect hideout, and a comfortable space to snooze. All of the three layers are carpeted. In the precise words of On2 Pets, an American company, "this unique treehouse is an innovation in modern cat furniture, achieving the perfect blend of utility and aesthetics."
It's really not practical to have many house plants with a few felines strolling about. We all know how much our kitties love to explore a good house plant thoroughly. Made with non-toxic and pet-safe materials, easy to assemble, and very sturdy, this is bound to be a perfect compromise.
You can even buy floating shelves with the same foliage in any color to create a larger tree and more space for your cat to roam!
Note: The only drawback is that if your cat loves to chew, the artificial leaves may get torn up and swallowed. While the material is non-toxic, this could still pose a choking hazard or cause your cat to puke.
2. On2 Pets CatHaven Cat Condo Set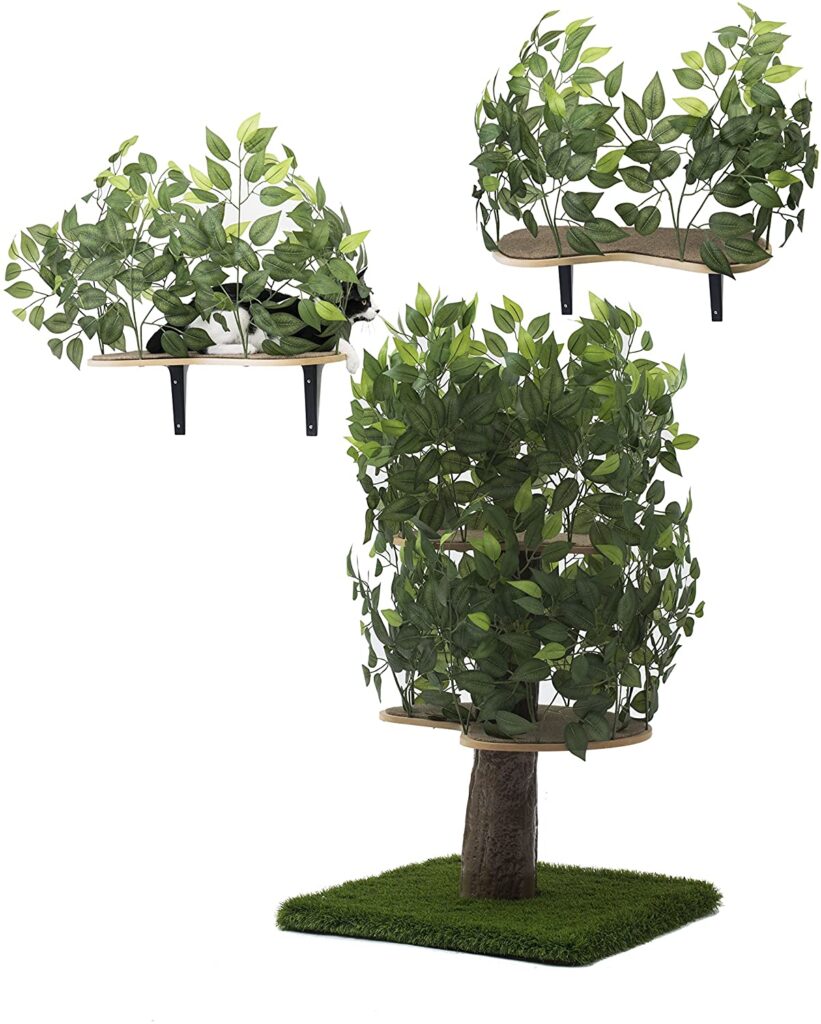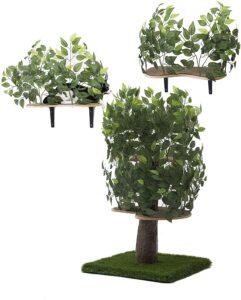 If you want your house kitty to feel like the king or queen of their jungle, then nothing beats this amazing furniture bundle.
Not only will this set be the perfect replacement for plants in your home but you'll also be providing your cat with all the space and entertainment they crave.
The non-toxic foliage in this cat tree will allow your cat room to climb and hide away, and the two wall perches will provide you with a bit of customization in terms of placement.
You can also buy more shelves in different colors by themselves if you want to create a larger tree spanning farther up or across your wall.
This set is made in the US and handcrafted with love and pet-safe materials to provide you the ultimate in luxury cat furniture.
Note: The only drawback is that if your cat loves to chew, the artificial leaves may get torn up and swallowed. While the material is non-toxic, this could still pose a choking hazard or cause your cat to puke.
3. On2 Pets Cat Tree With Leaves, Small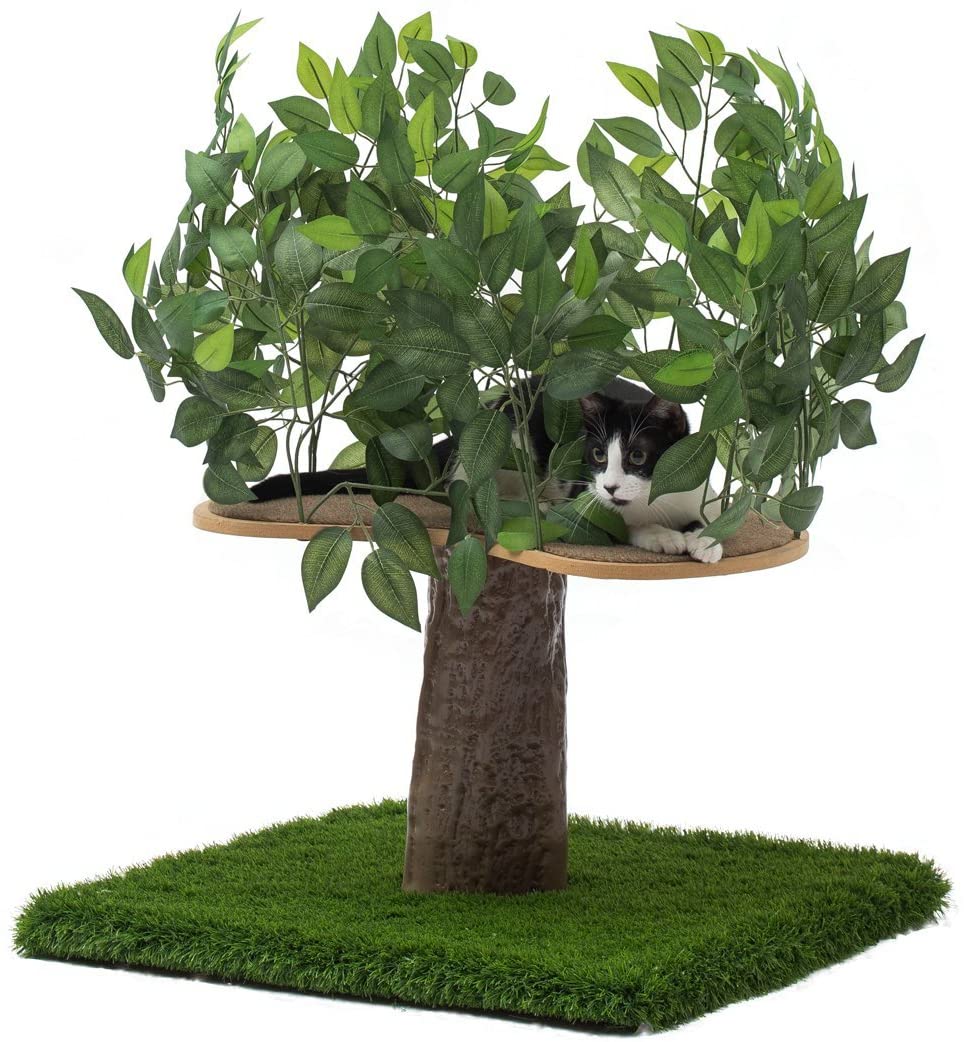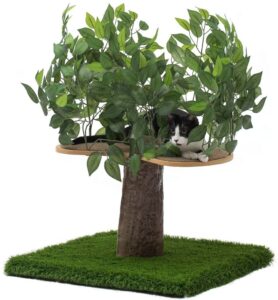 Here's a totally portable option for you and your cat. It is essential for your cat to have enough physical exercise as well as mental stimulation. According to animal behavior experts, elevated areas help cats cope and alleviate social stress.
At the height of 38 inches and weighing 32 pounds, the On2 Pets Cat Tree is the most affordable cat tree that actually looks like a tree.
The best part about this cat furniture is that you can place one in several rooms of your choice to provide your cat with their own special perch wherever you go.
It has enough artificial foliage to appear like a potted plant and will give your kitty room to hide in and take a restful nap.
Note: The only drawback is that if your cat loves to chew, the artificial leaves may get torn up and swallowed. While the material is non-toxic, this could still pose a choking hazard or cause your cat to puke.
4. PGFun Palm Tree Cat Scratching Post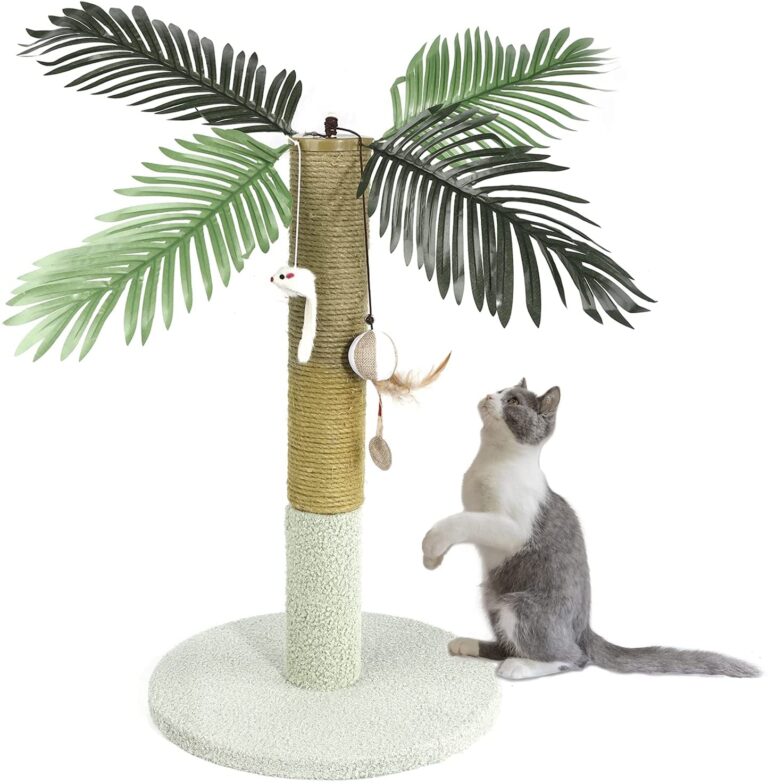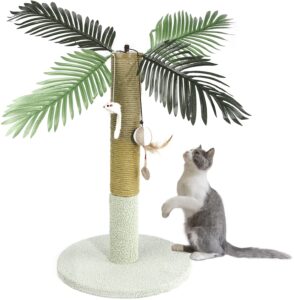 Here's where we start branching off into different designs. If you're not really into the forest look and are wanting a bit more of a tropical vibe, we've got you covered with this palm tree scratching post.
While this one doesn't include platforms, it's covered in natural sisal rope to provide the perfect spot for your cat to scratch and distract them from your furniture. There is, however, a 3-tiered version with a flower and mushroom.
It will also entertain them with the toys hanging from its top, which can be removed to use if you want to play with your cat.
Your kitty will spend hours scratching, climbing, and playing with this cat tree. It even has soft carpet at the base so your cat can curl up and take a nap when they've played out all their energy.
5. BOLUO Christmas Cat Tree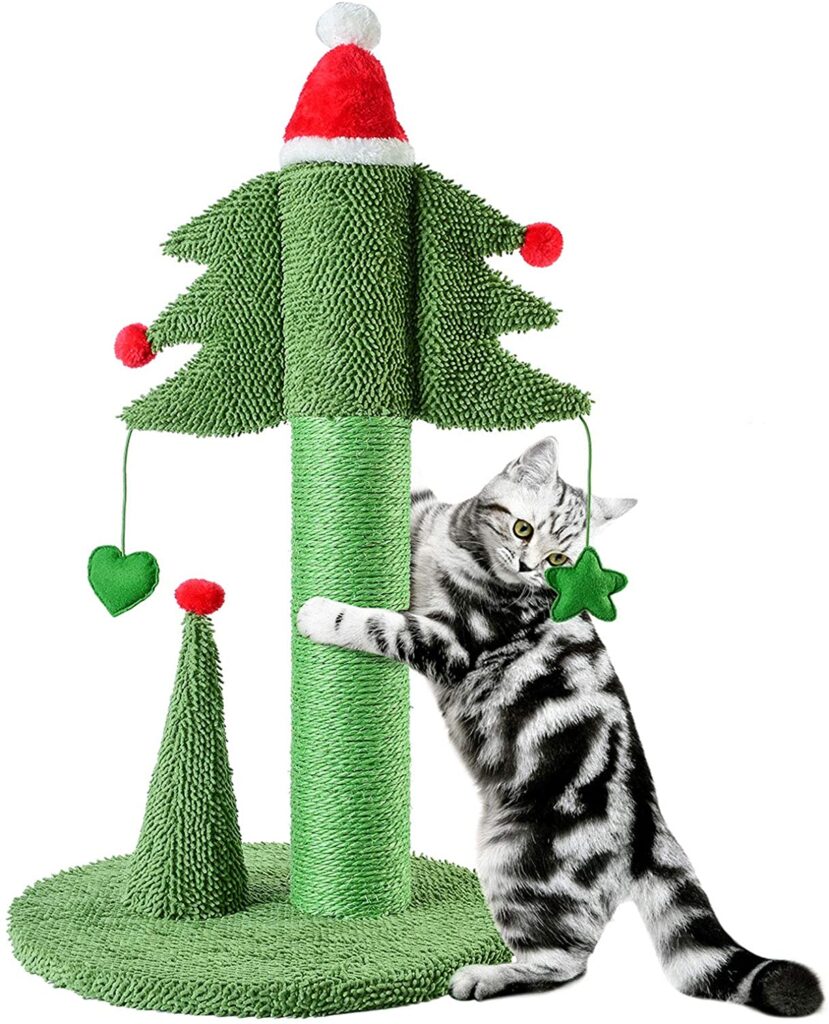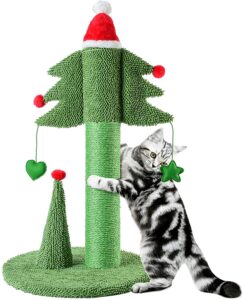 We all know the struggle of wanting to have a gorgeous Christmas tree standing proud and tall in our living rooms, only to remember that the last time we did, our cats completely destroyed it.
This cat tree is the perfect solution to distract your cat from your Christmas tree or completely do away with a traditional tree altogether. Festive and customizable, this tree is as functional as it is adorable.
The base is wrapped in soft scratch-able carpet and natural sisal rope. The construction is made of sturdy chipboard so that it can support cats up to 18 lbs.
It even includes hanging toys to keep your cat coming back to it instead of even thinking about touching your beautiful and delicate Christmas ornaments.
This tree doesn't include any foliage that could be easily shredded or ingested and is durable enough to last through many Christmas seasons.
6. Bosozuku Cactus Cat Tree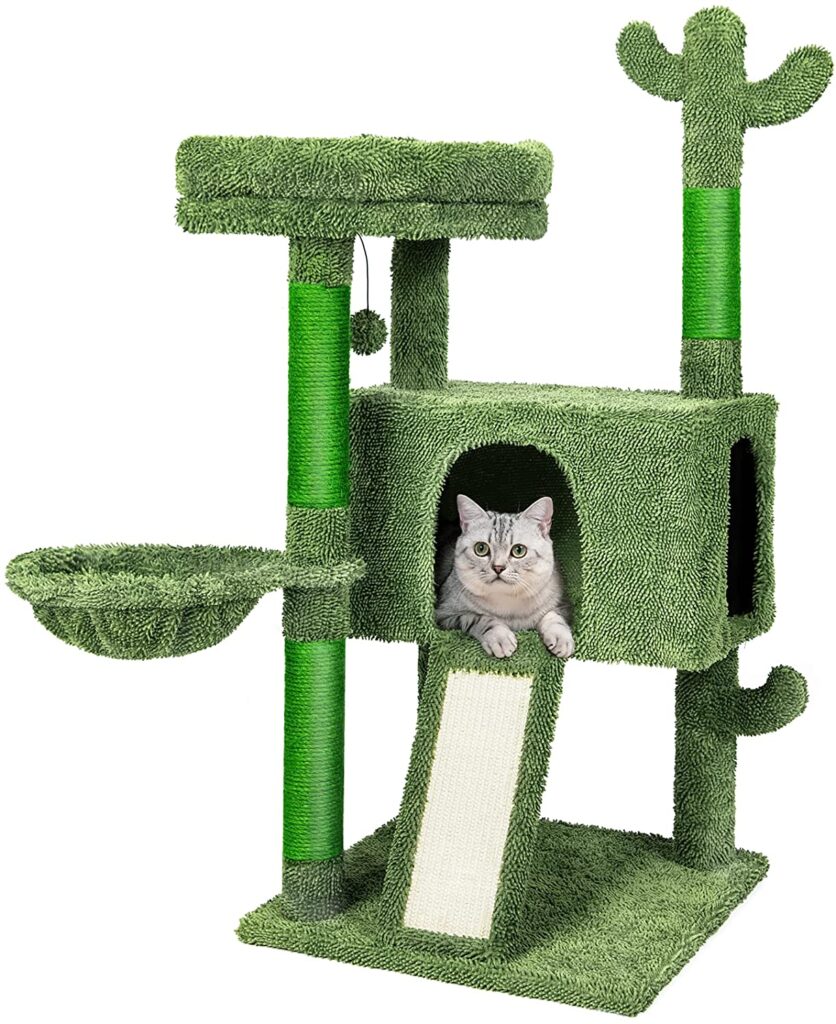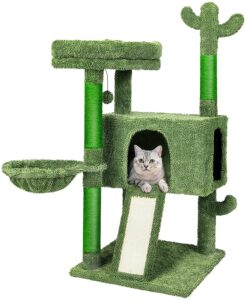 If you're bored of cat trees that look like they belong in the neighborhood park, this cactus tree may be worth considering.
Your kitty cat will have a warm cradle, a fun ladder, an entertaining hanging toy, a cat condo, and a cactus scratching post.
The materials are pet-safe and durable. If you place this fantastic cactus cat tree next to a window, your cat will be occupied for hours in the end, birdwatching and enjoying the scenery outside.
Bosozuku knows the importance of comfort when it comes to cat trees, so the entire cactus is covered with a plush fabric that makes napping, relaxing, and lounging all the more comfortable.
At a height of 43 inches, it gives your cat a good view of its surroundings, but it isn't too high to make you worry about your older kitties.
7. New Cat Condos Premier Play Tree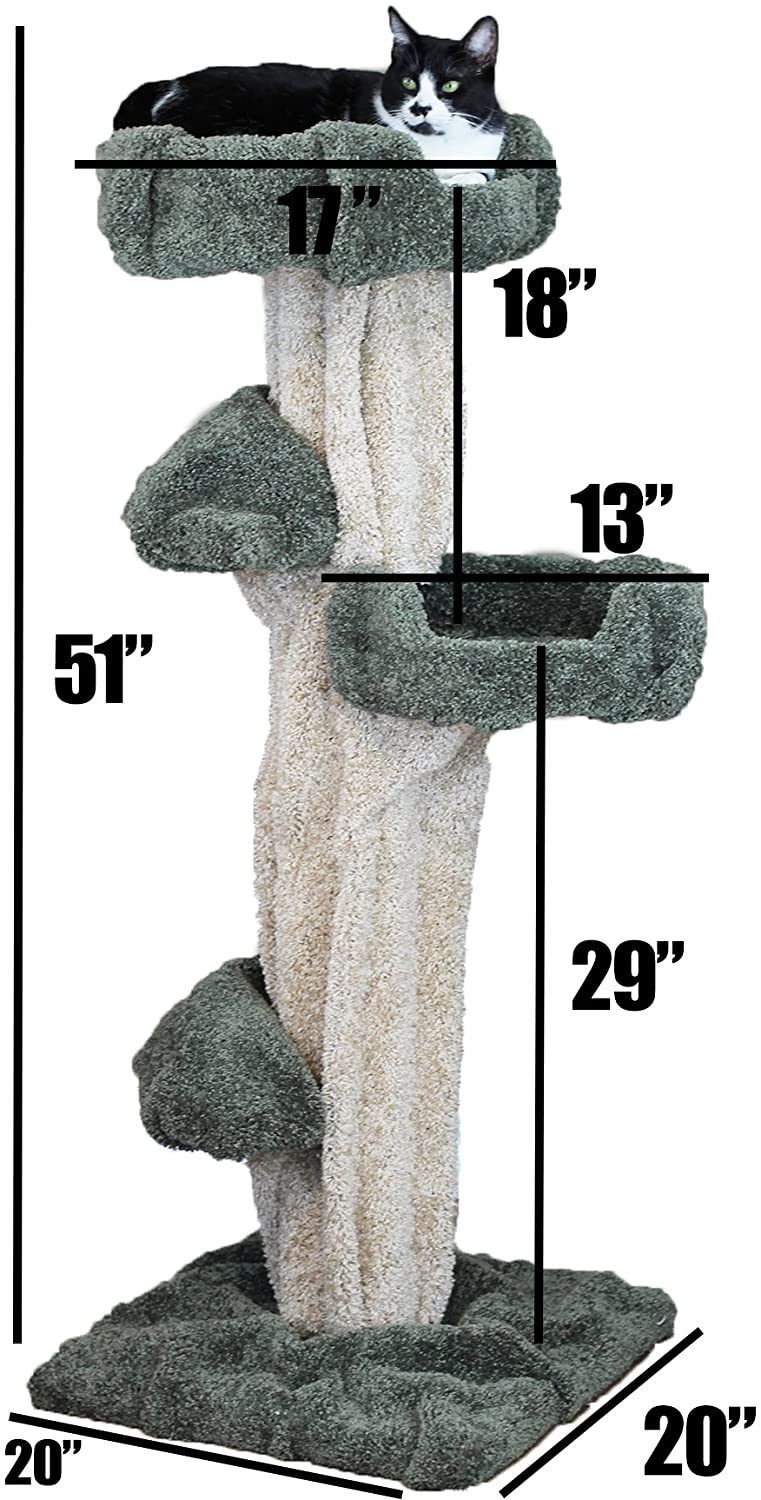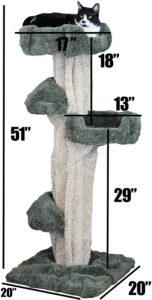 Here's another tall option that's the perfect scratching post and multi-tiered tree all in one!
If you like the idea of a cat tree that looks like a tree but don't like fake-looking greenery and obnoxiously bright colors, this neutral-toned and simple cat tree is the one for you.
At 51″ tall, your cat will have a perfect perch to relax on and feel like they own the place. This cat tree is covered in soft carpet that not only provides a soft feel for your cat to lay on comfortably but also the perfect material to grab onto while they climb or scratch.
The tiers encourage your cat to climb and jump their way to the tallest tier so they'll get great exercise every time they explore this tree.
Made in the U.S. with high-quality materials and super easy to assemble, it's a quick way to give your cat their own space and solve several problems at once, including climbing and scratching your furniture, and feline boredom.
8. Downtown Pet Supply Deluxe Cat Tree

DownTown knows that not all kitties are crazy about high perches and privacy. Some kitties just love to run, jump and climb. So, here is the best climbing experience for your cat. It's a pole-style cat tree with three tiers.
At around eight feet, this cat tree offers your cat the most satisfying scratching experience with sisal rope going all the way from the bottom to the top. And four turf-covered perches allow your kitty to take a rest whenever they wish to laze about after hours spent climbing.
The tree only takes up 14 inches of space across in a room, and there's a pressure-loaded top pole that secures your ceiling for extra stability but does not need drilling.
It's particularly effective if you have limited space available for cat furniture in your home, as all you need is vertical space. You can even create additional stability by putting it in a corner so that it touches the walls.
It includes a fake vine and foliage to entertain your cat, but always be careful to watch to make sure your cat isn't swallowing large pieces, as this can be a choking hazard.
9. CozyCat Furniture Large Cat Towers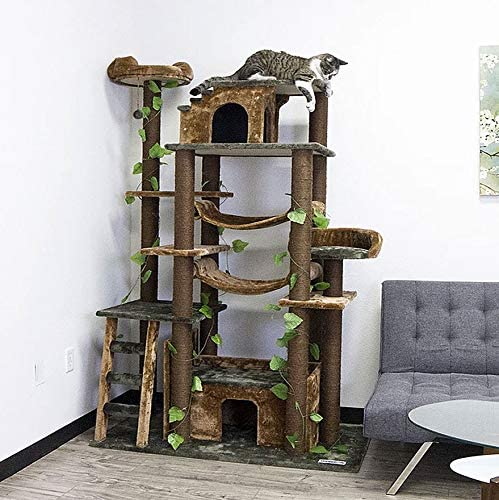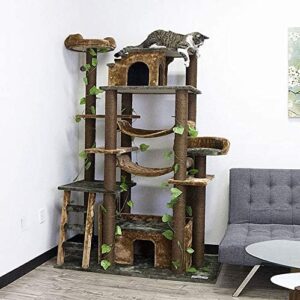 You can't say it's the most economical choice when it comes to cat trees. But, boy, oh boy, the CozyCattrees are next-level cat trees.
This tree's dimensions are 46″ x 25″ x 78″ which are evident even to the novice that it is a pretty big piece of furniture. The height of the cat tree will allow your pet to scan and lord over all of the peasants.
There are fifteen sisal scratching posts, two-bed perches, two covered bed perches with one perch right at the summit, and it even has two hammocks.
According to many happy customers, the cat tree is easy to assemble with tools that are supplied with the cat tree house and simple to follow instructions. The materials used are of high quality, and it is a durable piece of cat furniture that holds up after much wear and tear.
As mentioned earlier, it is a cat condo meant for large cats, so it won't crumble under the weight of your heavier fur babies.
10. Go Pet Club Cat Tree – Brown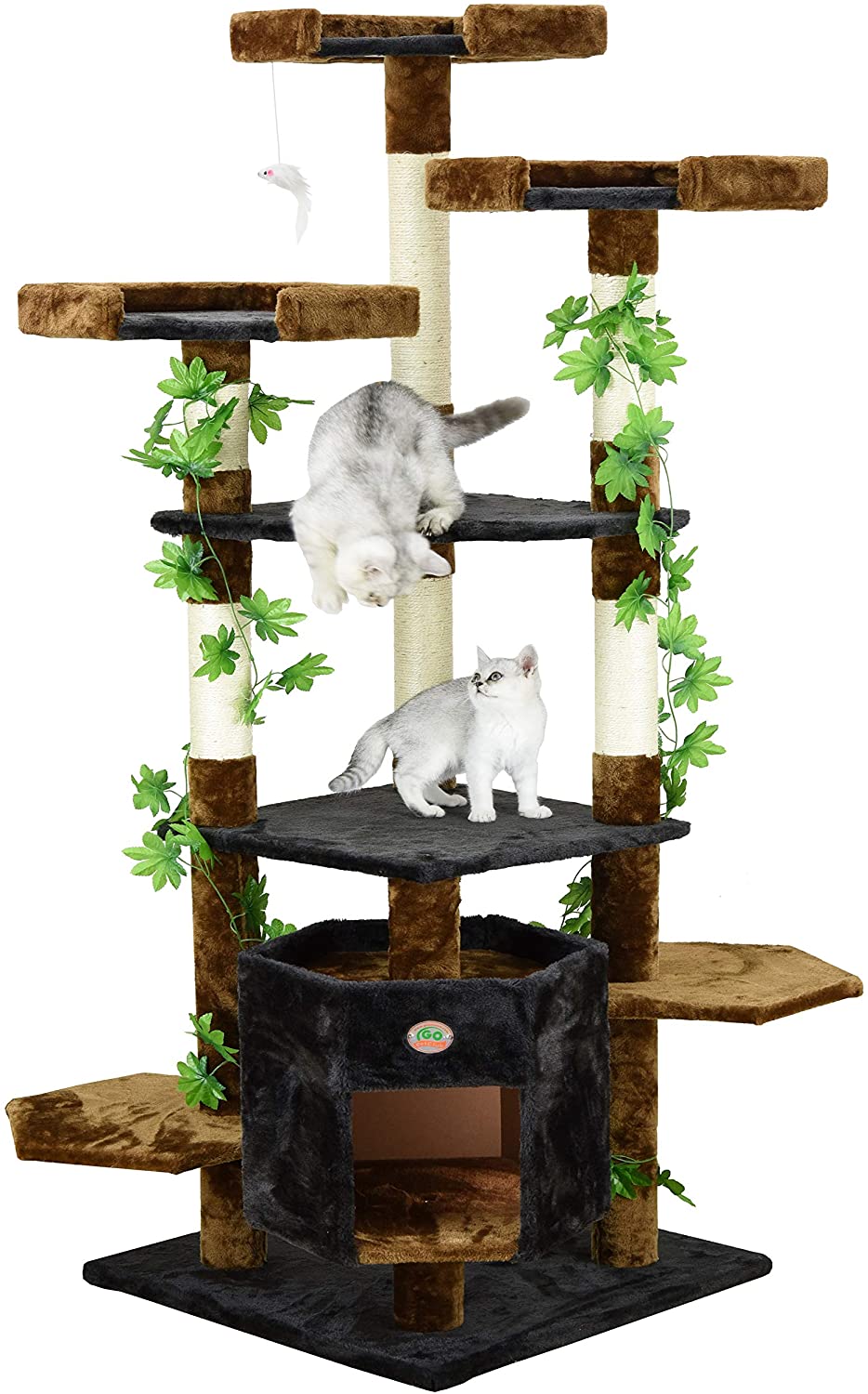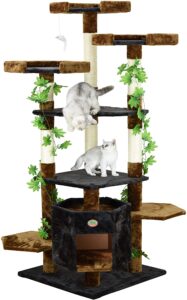 This is an exquisite design by Go Pet Club, with a modern take on cat furniture. The cat tree features three towers that your cat can use to relax and survey the land. Made with pressed wood with multiple tiers covered in faux fur, the posts have sisal rope to provide the ultimate scratching experience.
The cat tree has ample space, which is ideal for a multiple-cat household. The brown carpeting very expertly conceals paw marks. The covered bed just above the base gives your pet the room they need to hide and catch a few zzz.
There isn't much false foliage to present as the perfect hideaway for your pet, but the design does look good enough to work as a cat tree and beautify any living space.
Go Pet Club keeps the comfort and safety of your cat in mind first. So, it is easy to assemble, solid to hold the weight of more than a couple of cats, and long-lasting.
It's important to note that the realistic leaves are flimsy and tear easily. But, if you want to give your cat a taste of the great outdoors without stepping a paw out, then this Go Pet Club Cat Tree is the way to go.
11. Go Pet Club Cat Tree – Tan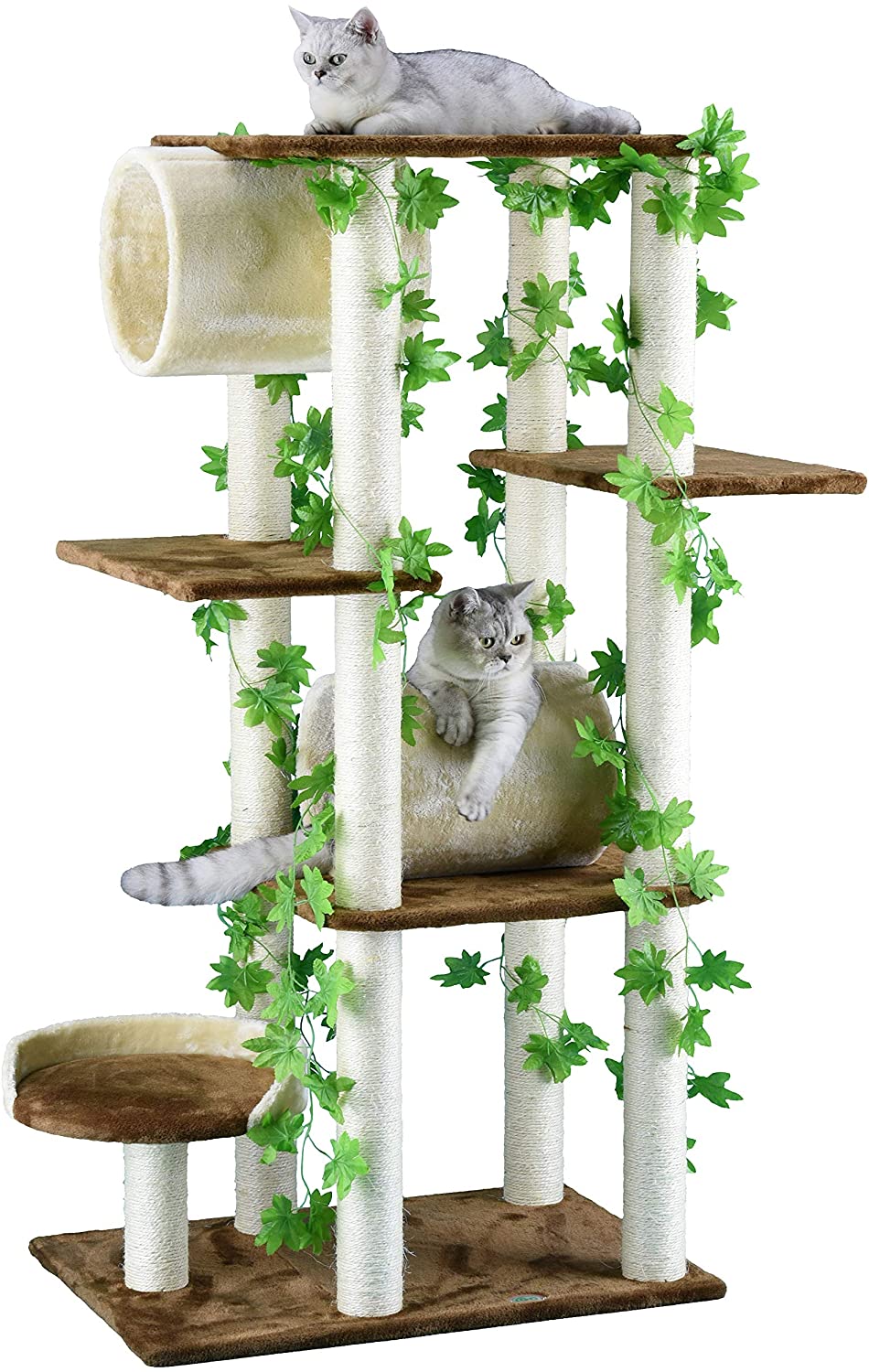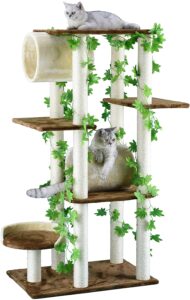 This one is an elegant design for cat furniture that has an even more amazing price tag. The Go Pet Club Cat tree seems to take its inspiration from a Grecian Pergola trellis design.
It is beautiful, spacious, and provides ample space for your cats to perch or nap. The faux fur tiers and sisal rope-covered posts are perfect for clawing, scraping, and scratching.
Technically, the Go Pet Club Cat Tree is more like adding to the decor of your home than a space for exercise and activity for your felines.
It also features two covered tunnels and one bed. The tunnels create a cozy room for afternoon naps for your cats that will keep them from accidentally rolling in their sleep and losing their balance.
You can't go wrong with a classic and fun design like this one.
Bonus: Vetreska Cherry Blossom Cat Scratcher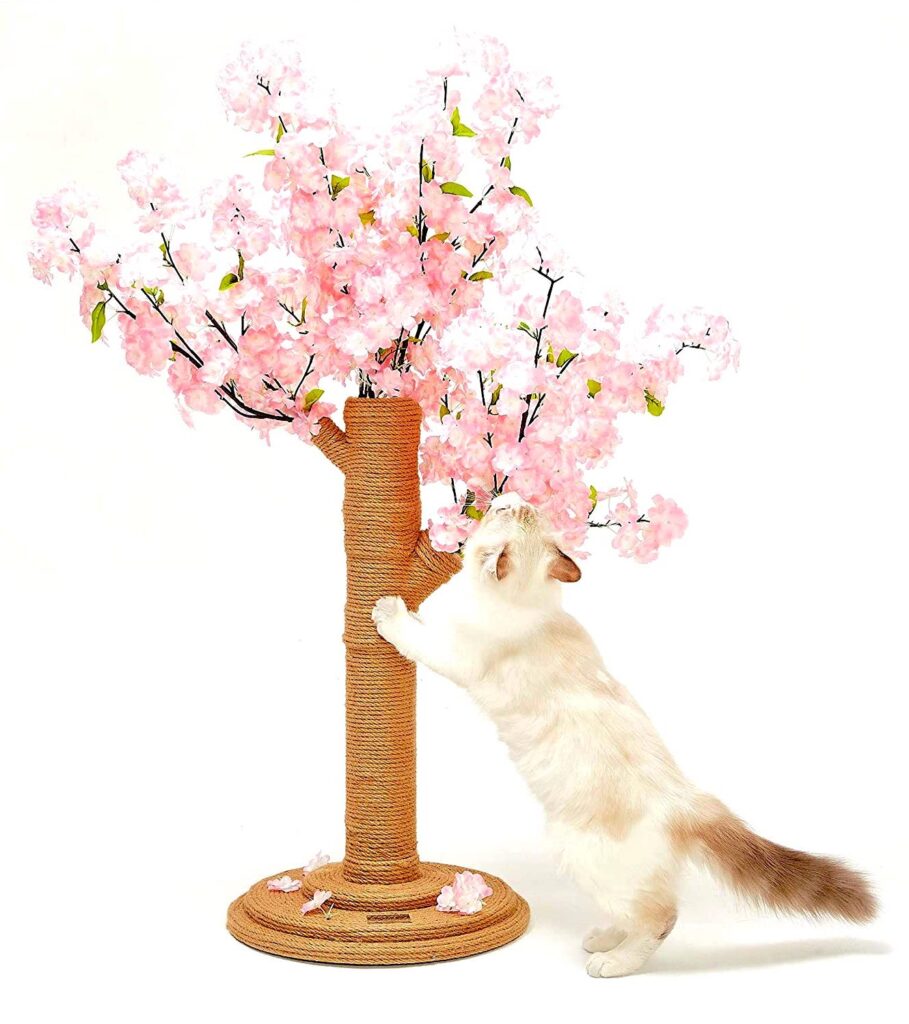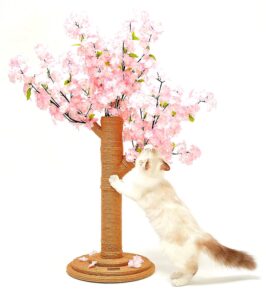 We know this one is more like a scratcher and doesn't really leave room for your cat to climb, but we thought we should include it as a bonus product simply for its beautiful design.
Created to look like a cherry blossom tree, your guests won't even realize it's for your cats when they first walk in. It makes for a pretty piece of decor that's also surprisingly functional.
The foliage and sisal rope will attract your cat's claws away from your couch and encourage their natural instincts while helping you avoid a furniture disaster.
The best part is that if this cherry blossom scratcher is just your style, you won't even have to compromise your cat's needs for your aesthetic preferences!
Final Thoughts
Cat trees might be another piece of furniture to crowd your home. But, you have to understand that they are necessary for your cat's well-being. They provide a means of exercise for your cat and give your feline their own space. But, it is an excellent way to divert your cat's urge to ruin your furniture.
You can't use negative reinforcement to prevent your kitties from destructive behavior. So, cat trees present the prime answer to your cat's scratching problem. Also, if your cat tree looks like a real tree, it'll hopefully add to the decor.
As a pet parent, it is your responsibility to care for your fluffy friend. As you already know that cat trees are a must for your cat, being home a cat tree that will be the best for your kitty's needs.
Up Next: Do Cats Need Chew Toys?