There is no doubt that dog's love a tasty snack, and we, as owners do everything we can to try and keep our canine friends happy. Dogs seem to love the taste of popcorn and therefore some owners choose to oblige.
Unfortunately popcorn is not particularly healthy for dogs. It is high in salt content which can easily cause dehydration and also contains high levels of fat which can be a contributing factor towards obesity.
There is also a high possibility that popcorn can be a choking hazard thanks to the unpopped kernels that are often present in the bag.
So how can we give our dogs what they want without compromising on health and safety?
Easy! Manufacturers have caught on to the fact dogs love popcorn and have designed them exactly what they want in a healthy and safe way.
So what are the best popcorn treats for dogs? The best popcorn treats for dogs should be made specifically for dogs and state so; this way you know it will be safe for your pet. Unpopped popcorn kernels are not safe for dogs, so be sure the treat includes only cooked popcorn. Treats should also be low in salt or sugar and wheat-free.
We'll look at three great popcorn treats specifically designed to feed your pooch in this article. We'll review the bonuses of each so you can pick the right one for your furry friend.
The 3 Best Popcorn Treats For Dogs
As we said, it's important to be careful what you give your dog, as some popcorn treats can be dangerous or simply just not a good idea to feed your pooch.
The biggest concern is perhaps popcorn kernels, as these unpopped nuggets can be quite bad for your dog. Kernels can get stuck in your doggo's teeth and cause some serious gum damage. Too many kernels can also make your "puppy" sick. We have a whole article on popcorn kernels and dogs if you want to understand more.
But you'll also want to make sure the treat you're getting is healthy. You will want to be sure to find treats that are low in sodium, don't have any unnecessary sugar added, and are low in calories.
It may sound odd as if you are counting your dog's calories, but you just want to be sure most of the calories in your pup's diet are coming from their healthy dinner, not their snacks.
Lastly, be sure to look for snacks that don't add a ton of wheat – or any. Some dogs are actually allergic to wheat, but even if your pooch isn't, it is just not a necessary part of their diet. Wheat shouldn't hurt a dog that isn't allergic, but since it isn't necessary, you may prefer not to risk it.
Most popcorn treats for dogs just mimic popcorn, rather than include it. Popcorn isn't really nutritious for dogs and also can be oily and salty anyway, so perhaps it makes sense to just formulate yummy fluffy and crunchy treats that won't pose a threat to your pooch.
We're pretty sure your dog won't mind the difference as long as they're getting a tasty snack!
With that said, we've done our research and found some of the best popcorn treats for dogs out there:
Let's look at 3 of the very best popcorn treats for dogs available to buy and why your dog is guaranteed to love them!
1. Pupcorn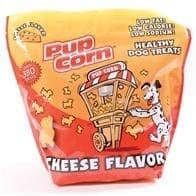 If your pup is always craving popcorn then the aptly named 'Pupcorn' dog treats are the ideal solution. These have been specifically designed for dogs and contain the right nutrition for your pooch's diet. These tasty treats come in a decent sized 16oz bag that will keep your dog treat happy for the foreseeable.
Low in Calories and Fat
The Pupcorn dog treats are an ideal tasty snack for your canine friend. They are safe for dogs to consume (unlike regular popcorn) and are low in both calories and fat content meaning you can be sure your dog is receiving as healthy a treat as possible.
This treat is ideal for dogs that are overweight and need to count their calories.
Low in Sodium
Sodium (salt) levels can often soar in dog treats and you will notice that conventional popcorn also tends to have an extremely high salt content. Pupcorn dog treats have been specifically designed with your dog's welfare in mind and contain very low levels of sodium.
Pros
Low in calories and fat to help combat weight issues
Low in sodium which reduces the risk of dehydration
Produced and sourced in the United States for peace of mind
2. Bark Pops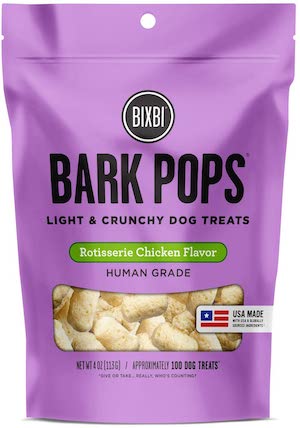 Bark pops are an ideal solution for dogs that love popcorn. This tasty snack is a delicious wheat free option that is highly nutritious and made in the USA. It is a well-loved option for good reason.
Wheat Free
Bark Pops are completely wheat free which makes a change since there are so many dog treats on the market these days that contain this ingredient.
Some dogs are actually allergic to wheat and you may not even realize this is the case with your own pooch. Wheat is a completely unnecessary ingredient for dogs' diets, and we love the fact that Bixbi, who makes these treats, are aware of this and just leave it.
100 treats per bag!
Bark Pops come in a handy sized bag of 4 oz and at a first glance you may be thinking that the portion size is small. Surprisingly there are 100 tasty treats in this compact bag meaning you really do get value for money as well as a long-lasting product.
Pros
Wheat Free – great for allergy sufferers
A small bag, packed full of tasty treats – you get so much more than you think!
Only a few calories per treat!
3. Ruff Puffs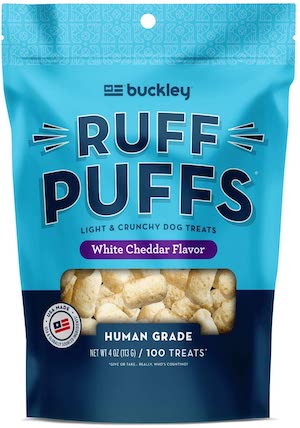 Last but certainly not least we have Ruff Puffs! Your dog is guaranteed to love these treats since they are very similar to regular popcorn in texture and deliciousness. These are a very similar product to Bark Pops and actually contain some of the same components. 
Human-Grade Ingredients
Ingredients are a very important thing to consider with dog treats for the welfare of your pooch.
Ruff Puffs have human-grade ingredients in their treats so you can always be sure your dog is getting the very best of the best when it comes to quality, nutritious ingredients that are good enough for their two-legged friends.
Tasty Flavors
Ruff Puffs come in two tasty flavors to entice the appetite of even the fussiest of dogs. Whether they fancy a taste of sumptuous sweet potato and apple or have a taste for mouth-watering wild cheddar, there is a taste to suit most doggy preferences.
Pros
Human Grade ingredients – only the very best for your pooch
2 delicious flavors that dogs seem to love
Low Calorie and Wheat Free
Up Next: Can My Dog Eat Caramel Popcorn?