Finding the best type of bird feed for Robin's can be challenging. There are so many different types of feed on the market, how do you know which ones to buy? We sympathize with you. Deciding what the best type of feed can be daunting and we decided to delve a little deeper into this subject.
So, what is the best bird food for Robins? The best kind of bird food for Robins is a blend of seeds and insects. These can be blended together separately or fed as a mix that can be bought widely at most pet stores. These kinds of commercial feeds can be easily placed in a bird feeder and birds absolutely love the combination.
Although Robin's love seeds it is however important that they do not have this type of feed on its own. Seeds are high in fat and low in vitamins and minerals so a variety is always best. In
sects are highly nutritious and packed with protein so therefore are a great addition.
3 Bird Foods That Are Best For Robins
Let's take a look at some of the best bird food for Robins on the market right now to help you with the decision making process.
1. Lyric Fruit & Nut High Energy Wild Bird Food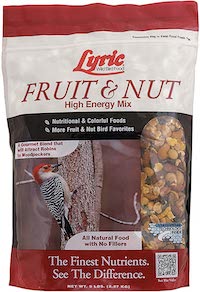 The Lyric Fruit & Nut High Energy Wild Bird Food is quite possibly one of the best bird food for Robin's on the market right now. It is a well-known brand that has a big selection of different types of bird feed mixes available.
We particularly liked this high energy mix as it incorporated both fruit and nuts as well as a series of grains. This is a great all-round bird feed that can be fed to your Robin's daily providing them with most of the nutrition they need in their diet.
12 Ingredients
The Lyric Fruit & Nut High Energy Wild Bird Food includes an impressive selection of feedstuff and consists of a whopping 12 ingredients in the mix.
We love that this is an all-natural feed and contains a variety of foods such as grains, seeds, and fruit to really give your Robin's a wide range of nutritional content.
Stay Fresh Technology
The stay-fresh technology was an absolute winner in our eyes. There's nothing worse than food going off just after you have opened it.
The Lyric Fruit & Nut High Energy Wild Bird Food has got you covered and has designed an oxygen absorber inside the packet as well as a resealable top to ensure your Robin feed is always in the best condition.
Pros
A fantastic mix of highly nutritious ingredients
Premium quality ingredients
Stay fresh technology bag
No fillers or wastage
Value for money
This is a fantastic value for money product and well worthy of our number one spot in regards to this. It is sold in a small 5lb bag that is easy to store and in regards to cost will not break the bank. We think this product is worth every penny and more.
2. Kaytee Ultimate Nut & Fruit Wild Bird Food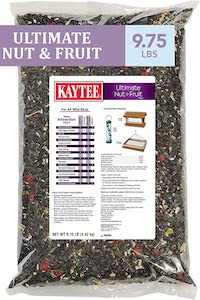 The Kaytee Ultimate Nut & Fruit Wild Bird Food contains a lovely mix of ingredients which is a huge plus! The core mix is made of grains, nuts, and fruits and specifically contains peanuts which are a great source of energy.
This is a super all year round feed that your Robin's will absolutely love and is compatible with most bird feeders meaning you probably won't need to rush out a buy another one.
Huge Bag!
We love that this product comes in such a big bag. For avid Robin feeders, this is so convenient. If this is the case you probably get through bird food pretty quickly and find you are always running out. This bag will last you a reasonable amount of time. You just need to make sure you have somewhere to store this.
High Energy
High energy feeds are important for Robin's as all that flying can really take it out of you after a while. After all, food is the fuel for flight and these guys need as much high energy foods as they can lay their hands on.
The addition of peanuts is a fantastic added extra into this mix and will provide your Robin's with much more energy than just feeding regular grains and seeds.
Pros
Sold in a larger quantity than most for convenience
Compatible with most type of birdfeeders
Great value for money
A great mix of natural fresh ingredients for high energy
Value for money
The Kaytee Ultimate Nut & Fruit Wild Bird Food is super value for money and if you are looking to get a bang for your buck this is the brand to choose.
This comes in a huge 9.7lbs bag and the cost does certainly not reflect this. It is much cheaper than you would expect. If you tend to get through your bird feed quickly this is probably the one to choose.
3. Wild Delight Fruit N' Berry Bird Food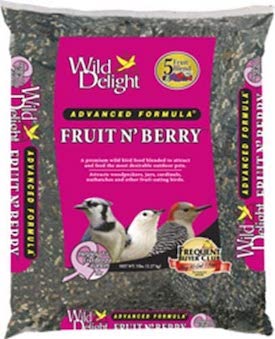 The Wild Delight Fruit N' Berry Bird Food is an advanced formula feed that is packed full of fruity goodness. The addition of berries is a fantastic source of nutrition for Robin's, particularly during the winter months.
This zero-waste blend is a great everyday feed for Robin's and comes in a conveniently sized bag of 5lbs however can also be purchased in a much bigger 20lb bag giving you the ultimate choice.
No Fillers
It's surprising how many bird feeds on the market these days contain unnecessary fillers and preservatives. These types of feeds contain far fewer nutrients and essential the customer is not getting what they are paying for.
We love that this bird feed contains no unnecessary ingredients and provides raw produce that is highly beneficial to Robin's health.
Various sizes and ranges
Wild Delight does a great range of bird food for Robin's providing a great choice of formulas and mixtures of ingredients. They manufacture several different size bags of this product which can ultimately save on cost and time for those preferring to buy a higher quantity of feed in one go.
The smaller bags are great for those that don't have so much room to store items at home. There is something here for everyone.
Pros
A unique fruity blend packed full of vitamins and minerals
Ideal for most types of bird feeders
2 convenient choices of bag sizes available
An advanced formula that contains no fillers
Value for money
We always love finding a great product that does what it says on the packaging plus gives us great value for money too. The Wild Delight Fruit N' Berry Bird Food doesn't disappoint and is at a great price point to cater to most people's budgets. We definitely give this the thumbs up!
What else do Robins eat?
You wouldn't think that Robins have an interest in a variety of food, but they actually eat much more than you would probably think. Most people associate Robin's to eat only seeds and insects, but this isn't strictly true.
There are so many different types of feed that you can put into your bird feeder that will attract Robin's. Some of these being everyday items that you may already have at home.
It is a great idea to mix up the type of feeds you are providing to ensure your Robin's are getting all the nutrition, vitamins, and minerals they require from their diet.
Let's take a closer look at some other ideas for feeding your Robin's and how these can benefit your Robin's health and nutrition levels.
| | |
| --- | --- |
| Seeds and Grains | Robin's absolutely love seeds and grains however despite this you must ensure they have a bigger variety in their diet than this alone. Seeds in particular are high in fat and have a rather low nutritional content. |
| Insects | Insects are a highly nutritious source of protein and Robin's love most types of insects. Mealworms being their absolute favorite tasty snack! It is said that insects have twice as much nutrition pound for pound than that in beef. |
| Fruit | Most people forget that Robin's love fruit and this is an ideal snack to add to your bird feeder to really mix things up. It is recommended that 15% – 30% of Robin's diet should be made up of highly nutritious fruits and vegetables. Apples, grapes, cherries, oranges, plums, and berries. Anything goes! |
| Suet | For those unfamiliar, suet is essentially beef fat taken from the kidneys and loins. It can be very beneficial for Robin's to eat and they seem to really like this. It is metabolized by Robin's well and is easily digestible for them. It is also a high energy feed that can be particularly beneficial during the colder months. |
| Crushed Peanuts | Peanuts are a very nutritional treat for Robin's and although high in fat are a great source of energy and calories. This serves them well during the colder, winter months and is ideal for your Robin's to tuck away and store for another day. |
| Sunflower Hearts | Sunflower hearts are easy for your Robin's to eat and make an absolute ideal treat to go into the bird feeder. They are packed full of vitamins and minerals such as vitamin B, calcium, and iron. They are also very high in protein. |
| Raisins | Raisins are well loved by Robin's and are a super easy to get hold of snack that your Robin will love. To ensure your Robin can digest these well try soaking them in water or adding them to a suet cake. |
Up Next: The Best Bird Food For Conures